What I talk about
These are some of the subjects I have given talks about:
components
(dialogs vs popovers, making components accessibly, new Web Platform features to make them easier to build, Open UI)
web accessibility
(practical tips, accessibility standards, the Accessibility Object Model, ARIA in practice, process)
CSS and design
(history, flexbox, Grid Layout, graphic design and the web)
ethics
(ethical questions for developers, which future of the web should we want)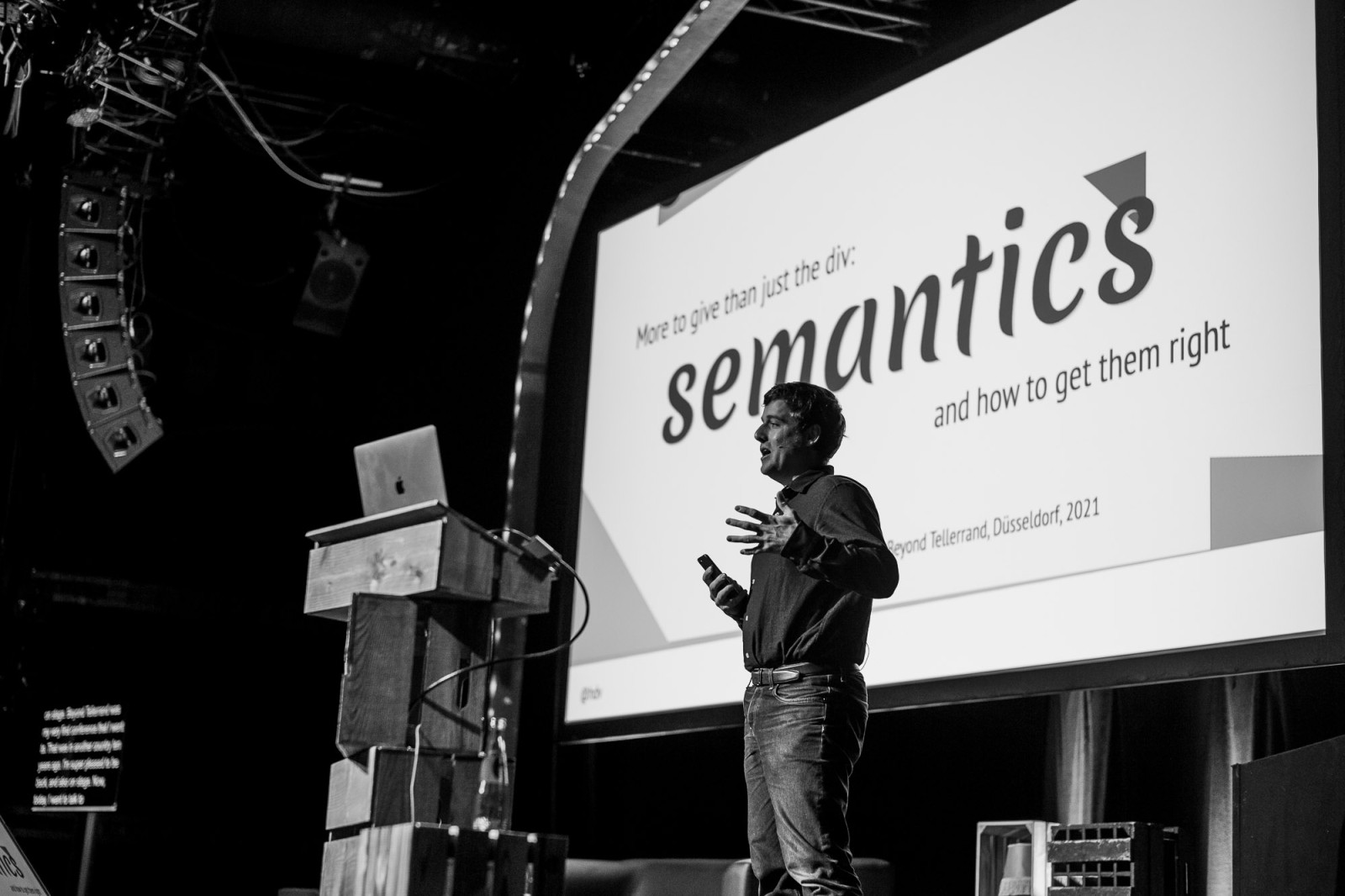 At Beyond Tellerrand in Düsseldorf (2021). Photo: Florian Ziegler
Previous events
In the past 6 years, I have given 64 talks at conferences, meetups and virtual events. They include JSConf India, CSS Day (twice!), dotCSS, Beyond Tellerrand, Accessibility Club Conference, Web Directions, JSConf Budapest and State of the Browser.
Find all my public talks, including slides, resources and transcripts at talks.hiddedevries.nl. Some slide decks have a full transcript that is equivalent to the visual slides, it can be found via the 'View all slides' link (example).
In-house
I also do in-house talks and workshops on accessibility. From an introduction to the subject to advanced ARIA. These can be catered to designers, developers, content and/or product people, customised to your needs, anywhere from 45 minutes to a full day. Get in touch for more info. Limited availability.
Enquiries
If you'd like me at your event, email me. Please be as detailed as you can: budget, date, location, target audience, audience expected size etc can help me get back to you quicker.
Please note:
I cannot participate in events that clearly lack diversity, will not participate in "man-els"
I don't arrange sponsorships for my company (though I'm happy to forward you to the right people)