This week I attended Brique, a design conference by the lovely people of Fabrique in Rotterdam's Kunsthal. It felt like a Dutch dConstruct for designers, like Creative Mornings meets This Happened. I had a great day!
The programme was extremely well-curated, with a great variety of talks, but an overlapping theme as well. Every talk approached the subject of reality. Some were about how to experience it, through inquiry, investigative journalism or photography. Others talked about how to shape reality to tell a story, with animation, graphs, VR or even classic cars. And then there were talks about how to change reality for the greater good, to decrease income gaps and make solar power work.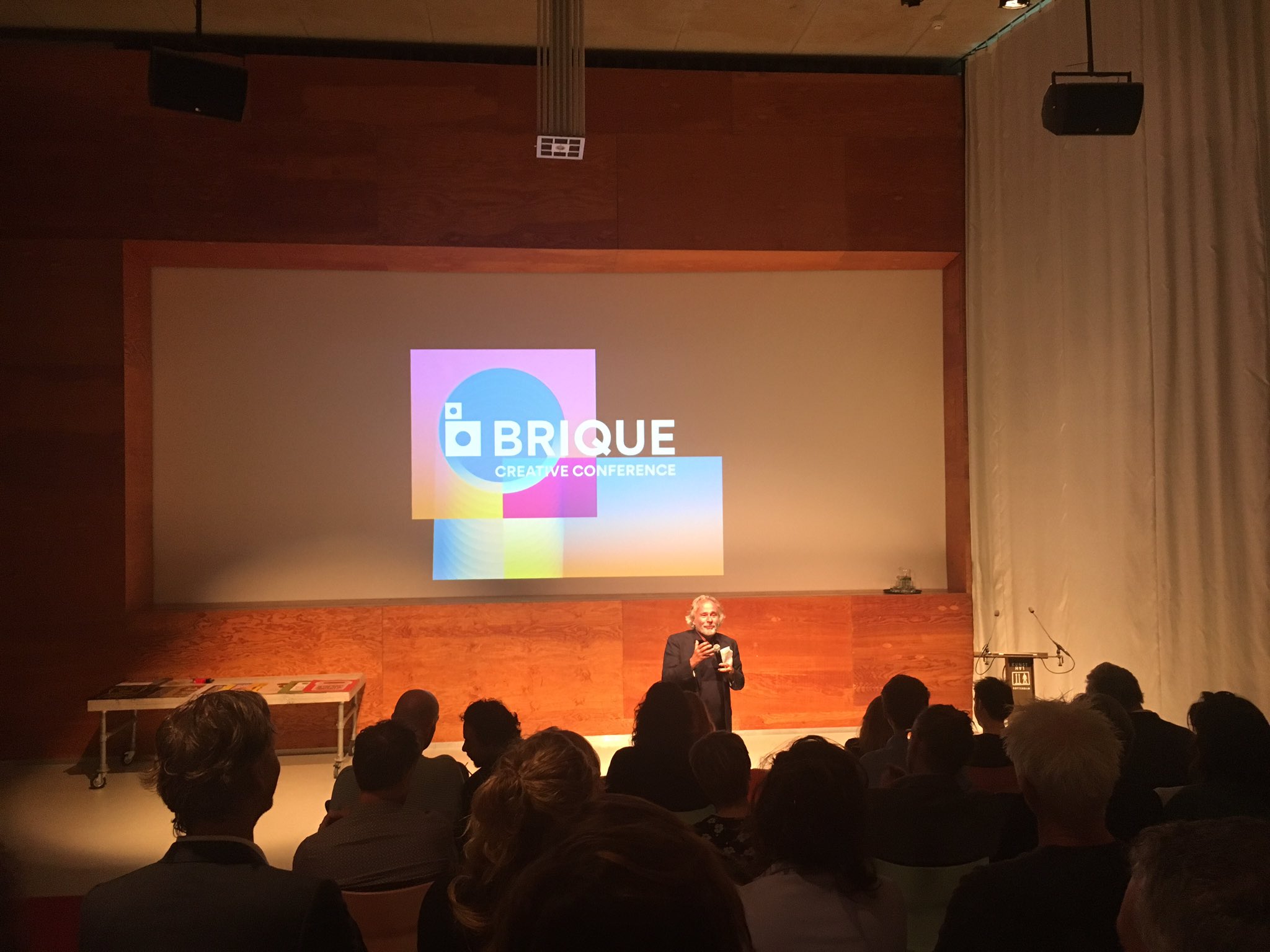 Photo credit: Fabrique on Twitter (original)
Stop motion filmmaker Rogier Wieland showed some of his work and the process it involves. He makes animation films, mostly with stop motion. The attention to detail was nothing more than impressive, and it shows in the result. It did seem like a lot of work, but lots of fun too (see also the photos on their website.
Philosopher Bas Haring talked about the daily life curiosity that brings him so much: when he encounters something he just does not understand, he investigates the thing. Whether it is the history of the Panama Channel, the economy or why someone would claim that homosexuality is not natural. This attitude of inquiry often brings him to more questions and answers. Interestingly, it also inspired him to write multiple popular philosophy books.
Jeffre Jackson explained that asking 'seriously?' is his "standard mode". Reality isn't always what it seems, he said, and part of why is that we don't know everything. We need to inquire, ask questions and realise we don't know everything. Withhold judgment, he advised. Throughout his talk, he referenced the humanist Michel de Montaigne, whom he said "would have loved the web". Great stuff! Still in doubt whether I should get Montaigne's essays.
Ionica Smeets, mathematician and professor in explaining scientific research to the world. She talked about the fascinating subject of a language used by experts talking to non-experts. She explained that one way to make sure your word usage is accessible is to ask the people you talk to for a summary of what you've just said. It might appear they misunderstood. Or filled in blanks wrongly. She also showed how graphs can be extremely misleading, and how some use them to tell stories their way.
Storyteller Steye Hallema did the first VR talk that overwhelmed me, mostly because of the meaningful examples. I had seen VR talks at tech conferences before, Steye's talk had a different angle: he talked about what kind of stories can be told with VR and how. VR, he said, is a bit like extracting consciousness from your brain and passing it around the room. He showed us how VR was applied to swap genders, make a music video, and experience a peep show. VR is hard, he said, from which I concluded: only use it when it improves how the story is told. He showed many examples where VR adds a new level and lets the public experience stories in ways that aren't possible in traditional film.
Lawyer Aernoud Bourdrez enlightened us about conflict resolution. He talked about Shapiro's five emotional aspects: appreciation, affiliation, autonomy, status and role, and ensuring to cover them all in every negotiation move. He also showed how to use this to obtain art, with some entertaining examples, such as how he managed to get the original x-rays of a car that is stuck in the Jackass' Ryan Dunn's buttocks.
Martijn Kieft of tv programme Tegenlicht told us how his tv programme looks at things that aren't typically in the news, but have a huge impact with how they shape the world. Some of these things are very abstract, such as the process of creating money or negotiating for disinvestment in companies that harm the earth. For something to make the news, it requires images, but one needs creativity to find imagery if your subject is an abstract process.
Architect Kristian Koreman talked about how his team challenge reality with the projects they do. They don't always do projects because clients ask for them, they sometimes give unsolicited advice. I like the idea of that. He showed how they helped the city of New York with a project around gentrification – quite a problem here, but a much bigger problem there. They studied differences between poor and rich and tried to come up with ways to challenge that reality.
Photographer Otto Snoek talked about his Europa project: he left his home city of Rotterdam to travel Europe and photograph people there. With his photos rotating in the background, he shared his thoughts about photography, Rotterdam and the world, and read three short stories.
Closing the day was the technologist, designer and philosopher Koert van Mensvoort. He showed some product designs to make us think about the future of our society: new technological possibilities arise, but are we comfortable with what can be achieved? He showed us the 'speculative products' he developed to start a discussion, and different kinds of in vitro meat products, some real and some imagined. He also talked about what 'nature' is, and argued the traditional definition should be widened to include hard to control human-made systems (such as financial markets and the internet). And that we should have the ambition for technology to become part of our nature, rather than just to the job they were invented for. More about how technology becomes part of nature in this TED Talk Koert gave.