The applause seemed louder than usual. They were stoked, this community of European nerds, designers and lots of people in between. At last. After almost two years without Beyond Tellerrand conferences, Marc Thiele decided to make it work and run another event. It was great to see him back on stage, introducing speakers and more.

Of course, it was anything but a normal event. Not all regulars could or wanted to attend. Naturally, they were missed. Those who did attend, mostly local or local-ish, had to stick to the '2G+' rule: to be vaccinated, recovered or PCR tested. I felt lucky I could be there, to attend a number of wonderful talks, meet folks in person and speak. I didn't find the risk assessment easy… for myself, for others… but, given the circumstances, it seemed like the right call to attend.
The talks
Recordings of last week's Beyond Tellerrand are already up on YouTube and Vimeo. Check out the event page for links: there is awesome content about variable fonts, quarantine life, sketching as a tool, the <head> tag and how it affects web performance, the attention economy, OAuth from a usability perspective, creative typography and how modern font tech allows for it, data visualisation and experiencing disability.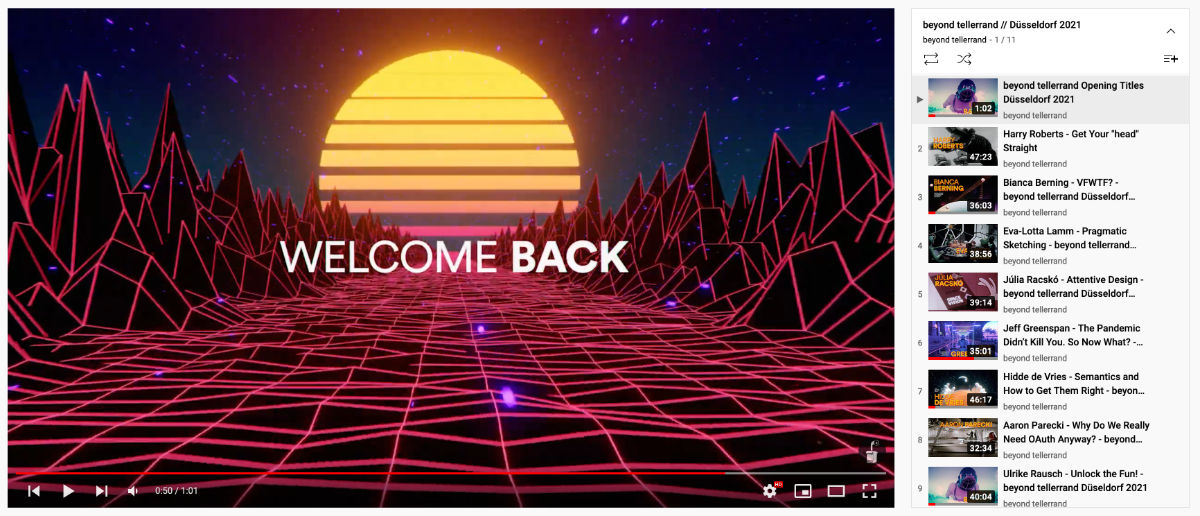 Recordings for all talks are available
I opened the second day with a full length talk just about semantics. Inspired by the Austrian-British philosopher Ludwig Wittgenstein, who equated meaning to use, I explained semantics is fundamentally about a system of meaning that is shared. Shared through a standard: HTML. This is how it differs from other examples of shared languages, like design systems and APIs. Through examples, I tried to show how semantic HTML affects end users and talked a little about gotchas (see the recording for more).
In person
It was special to me to speak at Beyond Tellerrand. Not only was it ten years after attending the first edition, it was also after over a year of just virtual talks. Virtual events are great. They have allowed me to speak in more places, without the travel. Last month I could attend W3C TPAC and Accessibility Toronto on the same day, while I also met my manager in Boston for a 1:1 and cooked family dinner at home. Which brings me to the downside… if you can be everywhere at once, are you really anywhere fully?
In virtual events, I've often not attended the whole thing, because I find that a lot harder while at my desk and at home. At my desk, there is also other work waiting. At home, there is family. I love my work, but picking between work and family is easy, I will pick family, unless I've actually travelled away.
In person, it felt easier to focus on just the event. It meant that I could bump into people in the hallways. Not literally, of course. I got more immediate feedback and much more time with attendees, organisers and fellow speakers. The feeling of being in an auditorium with others, laughing about the same jokes, enjoying the same beautiful typography on a huge screen, inpromptu ramen lunches… it's all hard to replicate virtually.
Accessibility Club and Indie Web Camp
In the days after the conference, some of us gathered in the newly opened Zentralbibliothek, Düsseldorf's public library. On Wednesday there was an Accessibility Club Meetup. I talked about opportunities for browsers to contribute to accessibility issues. Molly Watt shared her experiences as a deafblind user of technology and urged us to make less assumptions about and test more with users. Karl Groves warned us to not trust vendors of accessibility overlays. This was all livestreamed and it was awesome to watch Marc and Aaron setting up their elaborate streaming setup.
On Thursday, I left for home, but not before I had attended the informal yet important pre-event coffee session and the planning for that day's Indie Web Camp. It was my first Indie Web Camp, and I had wanted to attend for a while. I decided to work on the Webmentions on this website. That afternoon, in my train back, I tweaked how likes and shares, the most common form of Webmention I receive here, are displayed. They now show all in one paragraph, rather than as individual comment-like entries. This cleaned up the comment section for most posts on this site, which was nice.
Summing up
This was fun, and I hope it can happen again in the not too distant future. In the next few weeks, I have some more virtual and hybrid events. Here's to hoping that 2022 will bring more opportunities to safely gather in person with web friends, including those who live further away. Because, for one, I missed this.